What is Barn Dancing?

"Dance first. Think later. It's the natural order."
--Samuel Beckett

Welcome to the dance! The Central Iowa Barn Dance promotes the enjoyment of traditional country dancing and live string band music. We are a group of volunteers who aim to provide opportunity for musicians, callers, and dancers to gather and enjoy the dancing, the music and each other's company. We host dance events that provide challenging fun for beginners and experienced dancers alike. A barn dance evening features New England-style contradances and American square dances. (It may include the odd reel, circle dance, waltz, schottish, polka or hambo.) In the tradition of an American barn dance, group dances are walked through and called.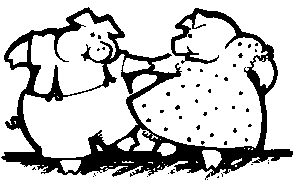 Common courtesy... Mixing with other dancers is one of the joys of this art form. Plan to dance with many different people throughout the evening. Use this opportunity to learn from one another and have a good time. Even if you are not dancing, please show courtesy to the band, caller, and other dancers. A CIBD barn dance is not a free-for-all, a child-care service, or a competitive sport. It is a chance for people to meet and enjoy a rewarding form of traditional social interaction. Listen to the music. Be attentive during the walk-throughs. Help each other with good humor and grace. Each person's effort makes the whole much greater than the sum of each of us dancing alone.

The Central Iowa Barn Dance Association has been providing good music and good fun since 1991. We enjoy having you dance with us...please help spread the word. Bring your friends. We appreciate your support. We need your dollars to help pay for the hall, publicity, etc. And we also welcome your encouragement, advice, time, and creativity in making these dances happen. For more information call (515) 292-0117.

Central Iowa Barn Dance Association
---

Just for fun, check out Gary Shapiro's definition of contradancing too.
---
---
Webmaster (alex at cibd dot org)
Last Revised: Sun Apr 15 2012